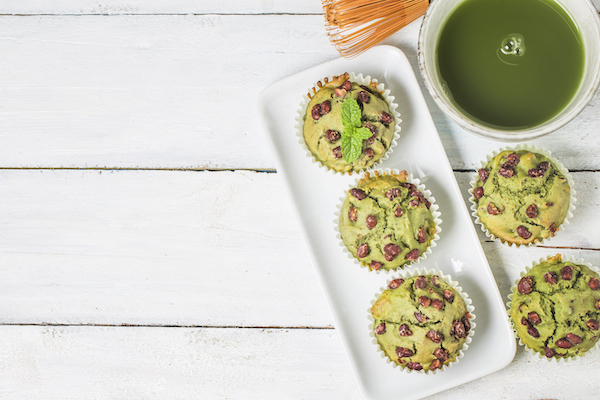 Banana Chocolate Chip Muffins
I promise I won't just post muffin recipes. They are just one of my favorite quick foods for breakfast or a snack.
Ingredients:
-1/2 cup sugar
-2 bananas*
-2 eggs
-1/2 cup oil (your choice what type)
-2 cups spinach
-1 1/4 cup almond flour**
-1 cup gluten-free oats***
-1/2 tsp salt
-1 tsp baking soda
-1/4 cup chia seeds**
-1/4 cup ground flax seed**
-1/4 to 1/2 cup chocolate chips (dark or milk chocolate)**
​Preparation:
-In a blender mix sugar, bananas, eggs, oil, and spinach.
-In a separate bowl, mix together almond flour, gluten-free oats, salt and baking soda.
-Remove banana mixture from blender and stir with dry mixture.
-Stir in chia seeds, flax seeds and chocolate.
Spray and fill muffin trays 1/2 full with batter. Bake at 350 degrees for 20 minutes. Makes 12-15 muffins.
*Those following a low FODMAP eating plan often times tolerate the less ripe banana over a very ripe banana. Either one can be used in this recipe, depending on your toleration.
**Based on the Monash App the green light is given for:
-Almond flour at (1/4 cup)
-Gluten-free rolled oats (1/2 cup)
-Ground flax seeds (1 TBSP)
-Chia seeds (2 TSBP)
-Milk chocolate (1 fun size bar)
-Dark chocolate (5 squares)
Since this makes over a dozen muffins, these green light servings are safe. Just remember not to eat too many muffins each day!!! These can be refrigerated or frozen.
***Caution using oats for the first 6 months if you are a newly diagnosed celiac. If you are past the 6 months or have a gluten sensitivity please purchase certified gluten-free oats.
Meet Valerie
Registered Dietitian Nutritionist - CDN, RDN
My name is Valerie Polley. I am a Indianapolis-based registered dietitian and owner of Blue Tree Nutrition. I consult with clients both local and far away.
I have a bachelor's degree in nutrition from Purdue University and I have been practicing for 20 years.
I thoroughly enjoy helping clients through their gut health journey. I see a range of GI issues including, but not limited to celiac disease, IBS and SIBO. I also specialize in the FODMAP elimination diet.
Subscribe for More Great Articles!
Subscribe via email to be notified of new articles, healthy recipes and helpful tips.